[Description]
Glomerular epithelial cells (podocytes) play critical roles on maintenance of glomerular structure and glomerular filtration. Establishment of podocyte culture is a prerequisite for study of podocytes. We have succeeded in primary culture of podocytes from isolated glomeruli of the rat. The cultured cells retain in situ phenotypes well. Especially, characteristics of podocytes have been elucidated in comparison with cultured parietal epithelial cells of Bowman's capsule. We showed that differentiated phenotypes of podocytes are influenced by cell density, fetal bovine serum, extracellular matrices, heparin and ATRA.
[Photographs]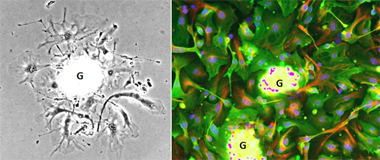 Glomerular epithelial cells (podocytes) growing out from isolated glomeruli.
(left) Phase contrast micrograph. (right) Immunofluorescence micrograph using anti-podocalyxin (green) and anti-desmin antibodies(red). G, isolated glomerulus.