1.Research Summary
The Department of Pediatrics is divided into six research groups (Infectious Diseases/Nephrology and Connective Tissue Diseases/Hematology and Oncology/Cardiovascular Medicine/Endocrinology and Metabolism/Neonatology) as follows, and clinical research addressing themes that would directly lead to clinical practice applications for patients and basic research using molecular biological techniques is conducted.
2.Research Group
Infectious Diseases Team
Nephrology and Connective Tissue Diseases Team
Hematology and Oncology Team
Cardiovascular Medicine Team
Endocrinology and Metabolism Team
Neonatology Team
3.Basic Research Group
Research subjects
i) Infectious Diseases Team
Rapid viral diagnosis in severe pediatric infections using real-time PCR
Understanding the pathophysiology of human parechovirus type 3 infection in newborns and infants
ii) Nephrology and Connective Tissue Diseases Team
Elucidation of the mechanism underlying the pathogenesis and progression of chronic glomerulonephritis using renal biopsy tissues
Development and clinical application of new urinary biomarkers using macrophage antigens
Mechanism by which pediatric chronic kidney disease (CKD) becomes refractory
Prefectural epidemiological study of nephrotic syndrome and analysis of prognostic determinants
Reconsideration of treatment target and establishment of therapy for lupus nephritis
Establishment of methods for controlling pediatric chronic renal failure prior to preemptive transplantation
iii) Hematology and Oncology Team
Development of new cancer therapies using ex vivo-amplified and genetically modified NK cells
Modification of anti-CD19 chimeric receptor (chimeric antigen receptor) signal transduction
Development of T cell therapy using anti-CD19 chimeric receptor gene transfer
Genetic determinants of NK cell function
iv) Cardiovascular Medicine Team
Elucidation of the pathology of vascular disorders in Kawasaki disease and prediction of the outcomes of sequelae using undifferentiated cellular biomarker LR-11
Refractory genetic arrhythmias developing during the fetal and neonatal periods
Investigation of the risks of de novo fatal arrhythmias in school heart examination
Effects of developmental changes in cardiac ion channels on cardiac function
v) Endocrinology and Metabolism Team
Clinical and Molecular genetic research on the etiology, pathology, and treatment of congenital hypothyroidism
Clinical and Molecular genetic research on the etiology, pathology, and treatment of congenital adrenal hyperplasia
Clinical research on endocrine late effects of childhood cancer survivors with brain tumor
Criteria of Radiological Diagnosis for Neonates with Hypochondroplasia
Prefecture Epidemiology of childhood-onset type 1 diabetes mellitus in Niigata Prefecture
Prospective randomized control study of combination therapy with low-dose methimazole and a cholesterol absorption inhibitor as for the initial treatment of childhood-onset Graves disease
vi) Neonatology Team
Standardization of neonatal health care: INTACT (research designated by MHLW)
Preparation of training program for neonatal resuscitation, establishment of its training system, and assessment of its effects (research shared by MHLW)
Optimal aspiration methods for different amniotic viscosities
Association between periventricular leukomalacia and polymorphism of inflammatory cytokines
Relationship between sodium balance during the neonatal period and blood pressure after growth in very low-birth-weight infants
Pathology of neonatal insulin-dependent hypoglycemia and its treatment methods
Effect of maternal administration of magnesium sulfate on neonatal electrolytes
Endocrine kinetics in children with therapeutic hypothermia
Relationship between changes in cytokines and brain disorders in children with therapeutic hypothermia
Improvement of nutritional status by early aggressive nutrition in very low-birth-weight infants—introduction of Bayley developmental testing
Long-term prognosis of children born to mothers with psychiatric diseases
4.Research Results
[Area] Pediatrics (infectious diseases)
[Research subject]
Rapid Molecular Diagnosis of Common Infections in Children
[Description]
We have established the molecular diagnostic methods to make rapid diagnosis of common infections in children using real-time PCR since April 2012. The patients' samples such as blood and CSF have been sent to our laboratory from different hospitals, including Niigata University hospital, affiliated hospitals, and other children's hospitals in Japan. Based on the clinical information of the patients, pediatric infectious diseases specialists select the tests for possible causative microorganisms for real-time PCR assay evaluating more than 20 viruses and bacteria. One thermal condition is applied to detect the microorganisms qualitatively.
The figure shows tested and detected microorganisms between April 2013 and December 2013. The results of tests were returned to the requested physicians within 48 hours in 95% of cases.
Real-time PCR assay in our laboratory at the university, which plays a central role in pediatric practice in the region, enabled to contribute to clinical decision making for the physicians and local epidemiology of infectious diseases in children. We plan to evaluate the impact and cost-effectiveness of real-time PCR assay in clinical settings in the future.
[Photographs]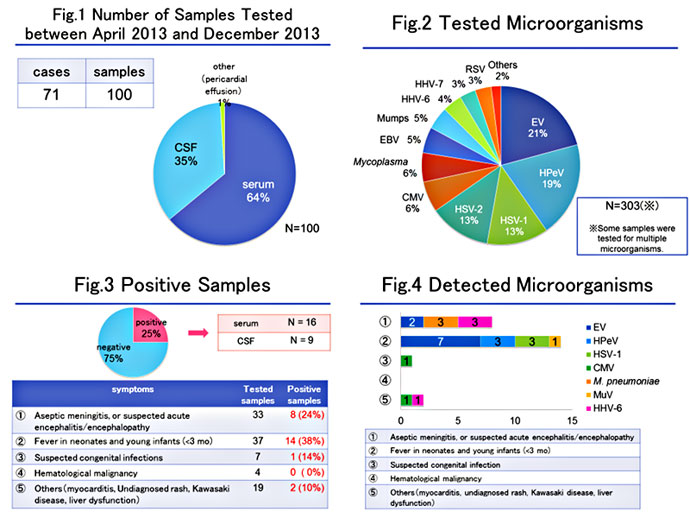 [Area] Pediatrics

[Research subject]

Development and clinical application of new urinary biomarkers using macrophage antigens

[Description]
With over 300,000 patients currently being treated with dialysis, chronic kidney disease (CKD) has become a major social problem in Japan. One of the major problems of CKD is that the patient has no subjective symptoms until renal failure progresses. Despite the recent aggressive development of urinary biomarkers of acute kidney injury (AKI), highly sensitive urinary biomarkers reflecting the progression of CKD are not yet well-known.
Particularly in children, it is important to establish a non-invasive testing method for predicting the progression of CKD. We are currently addressing the development of a urinary biomarker, a macrophage (Mφ)-specific antigen (CD163), which reflects the progression of the chronic lesions (glomerulosclerosis and interstitial fibrosis) of kidney disease.

[Photographs]
Please see the Pediatrics website for a detailed description of our research.