Living Up to Society's Expectations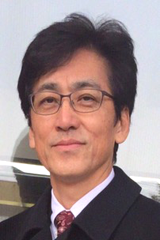 Toshiyuki Someya, MD, PhD
Dean, School of Medicine
 Thank you for visiting the website of Niigata University School of Medicine.
 Our medical program has been pursuing medical education and research for more than a hundred years since our foundation. Our history can be traced back to 1910, when National Niigata Medical College was founded. In 1922 we became National Niigata Medical University, which was the sixth national university school of medicine; in 1949 we became Niigata University School of Medicine as we are known today. In 2020, two years from now, we will celebrate the 110th anniversary of our founding. Our school has more than 10,000 alumni; many of them are researchers and doctors involved in medical science at the international level. Taking pride in our traditions, we must steadily work to continue to create history.
--A new approach for the School of Medicine--
 Niigata University School of Medicine has been implementing changes within the School such as systematically improving the undergraduate and graduate schools, acquiring personnel, obtaining the certificate for the assessment of medical education in accordance with international standards, designing a new curriculum and furthering international exchange programs. Nevertheless, the environment for all the universities in Japan is becoming more and more challenging so as to make this work seem insufficient.
 We must take this difficult situation, in which universities are now placed, as an opportunity for new development, and discover a new image of a school of medicine that meets societal expectations. We should use the potential of a medical school to elevate medical standards and innovate here in Niigata. We need to receive financial support from society far and wide, in addition to obtaining research subsidies including government subsidies. The cooperation between the School of Medicine and the Medical and Dental Hospital is becoming more and more important, and having the hospital approved as a clinical research core hospital is paramount. For our School of Medicine to develop into the next age, we must face and address such numerous problems day by day, working to solve them and improve our program.
--To foster young power for the future--
 Under the educational philosophy of contributing to human well-being through medical science, our School of Medicine has been educating young medical practitioners and researchers. We have established an environment where we can educate students having sufficient knowledge, inquiring minds, education and humanity to become medical professionals who can pursue all medical areas of expertise: clinical areas, medical research and medical administration. The following are our six educational goals:
 We develop professionals who
 1. contribute holistic medical care with rich humanity and high ethical nature.
 2. contribute as a leader of highly specialized medical teams.
 3. contribute as medical researchers and educators with a wide perspective and great interest in learning.
 4. contribute to health, medical care, social well-being and welfare administration.
 5. contribute to local health care and global medical activities.
 6. maintain inquiring minds, research minds, self-learning attitudes continuously.
 In the community, our School of Medicine contributes to improving community medical care, health and welfare, emphasizing preventive medicine as well as clinical medicine, cooperating with medical institutions, medical societies and administrative bodies. We are also active overseas, including medical and health care exchange with countries on the Sea of Japan such as China and Russia, countries in Asia such as Myanmar and Malaysia, and America and Europe. In summer, during International Student Week, interested medical students organize Sino-Japanese and Russo-Japanese exchange programs. Furthermore, we provide opportunities including medical research training in America, Europe and Asia, and clinical training in Britain.
 We hope our students at Niigata University School of Medicine are working hard to become professionals who will contribute to society through medicine and medical care, with lofty goals and the world in view, while studying cutting-edge, advanced medical care and community medicine in this favorable environment located in Niigata.
--Gazing into the future of medicine--
 Niigata University also has the Graduate School of Medical and Dental Sciences, enabling our alumni and others to continue their studies and research.
 In research, we have achieved promising results in many areas, including studies in cerebral nerves, kidneys, cancer, circulatory organs, digestive organs, cytobiology and infectious diseases and so on. Our research and results are internationally well-known and respected. Some of our achievements are introduced on the website of Niigata University School of Medicine.
 We encourage students to study at the Graduate School of Medical and Dental Sciences after finishing the School of Medicine. Through research we can learn much that is helpful when we work as clinicians.
--Mission and community--
 The mission of a university naturally includes education, research and contribution to society. Niigata University School of Medicine emphasizes medical practice rooted in Niigata, fostering the ability to work and learn in the world, and expanding into the global community.
 In the midst of the current times where competition and evaluation predominate, we describe a picture of the future to realize our wishes. We face difficult conditions, but we hope our students will devote themselves to their studies and research with pride, determined to search for a way to a hopeful future. We sincerely hope Niigata University School of Medicine enjoys the confidence and love of the people in our community.